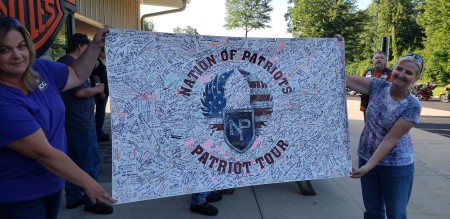 Address
September 03, 2019 10:30PM - 1:30PM
The time has come for the Patriot Tour Flag to land in our great city. Gather by 10:30am at Toledo Harley-Davidson for a pre-ride meeting and the signing of the banner.  Coffee and Donuts will be provided. KSU at 11:00am and we will head to Artisian Wells and Cement City Harley-Davidson® at Town and Country Sports Center where we will hand over the flag and then have Pizza lunch provided by Artesian Wells Sports Tavern.

Register here: https://www.nationofpatriots.com/register/

Donations can be made online or the day of the ride.
Back to previous page