July 18, 2021 10:30am - July 19, 2021 1:30pm
Join our nations flag along with our Veteran Flag Bearer, Mike Kirk, as he escorts the Flag from the Clyde VFW post to Signature H-D.  He will receive the flag from a fellow Veteran  in ceremony once they arrive. On Monday, join us as we escort the flag up to Town & Country H-D in Cement City, MI. 
Stay Tuned for complete details.

Donations can be made online or the day of the ride. 
More info about the entire 110 tour can be found here: https://www.nationofpatriots.com/2021-patriot-tour/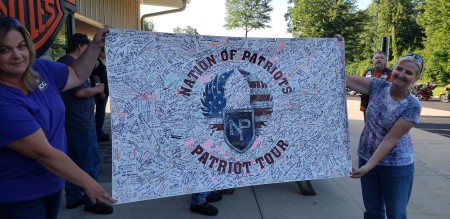 Back to previous page